[an error occurred while processing this directive]

To say that lap steel guitars come in all shapes, sizes and string sets is the understatement of the century...

...which is part of the fascination with this beautiful instrument.

From acoustic resonators to electric 8-stringers, we're going to be displaying guitars that we think are exceptional and worthy of mention.


DOBRO
Our DOBRO © page has lots of info, recordings, videos and more, mostly about the affordable Hounddog series.
DIY
And not to be left out of the DIY or homemade lap steel experience.

Of course, we'll be doing that with lots of video for your viewing pleasure.

The following video reviews are of pro-grade instruments. Contact if you need any help choosing a lap steel.



---
Remington SteelMaster Double 8
New: The Remington Steelmaster D8 Page, multi-part video review, pix and sales.

Hear this very guitar being played in this mp3 audio sample of the classic How D'ya Do, featuring the C6 tuning rather than the usual B11.

Audio samples are found on this page.






---
Georgeboards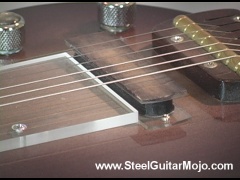 Here's one very interesting lap steel guitar by the guitar maker who goes by the name Georgeboards.

Watch an updated video on how we installed brackets and legs to create a console out of our 8 string lap steel.

We're in the process of producing an article on these fine lap steels, in the meantime, pics can be found on this page

The intro the a video review of the Georgeboards steel guitar are served up with some shots that should satisfy your curiosity. Many of the video clips played on the lessons and song demonstrations are done using this instrument.

And then this video shows more of the aforementioned steel, this time illustrating the conversion to a console for live stage performance of Hawaiian music.


---
GFI ULTRA SD-10
Here's a beautiful GFI ULTRA 10-string, single neck pedal steel guitar with arm pad.



[an error occurred while processing this directive]